Television advertising is an effective medium for promoting products and services.  Since many friends and family watch television together, viewing commercials together allows for collaborative discussion and group decision-making.  In fact, many big decisions such as whether or not to re-roof a home or purchase a new vehicle are made after a joint discussion by household members, so seeing the advertisement together helps to initiate the process.
Traditionally, it was easy to capture large segments of customers by placing television advertisements in regular programming on one of the three major networks:  ABC, CBS, and NBC.  Most Americans were tuned in to popular shows on those stations every night of the week.  Over time, cable television expanded the options, yet the three primary networks still captured most of the viewership.  Those days are over.
Streaming services have been around for over a decade but leaped in popularity during the COVID pandemic in 2020.  Many Americans took to binge-watching their favorite shows on their laptops, mobile devices, and streaming devices attached to their televisions with more hours at home.
Market research shows that consumers watch streaming content for 68% of their television viewing time.  49% of households use at least three streaming services, and 40% of people between the ages of 18 and 44 watch streaming content daily.  Netflix alone estimates it will have over 182 million subscribers by 2024.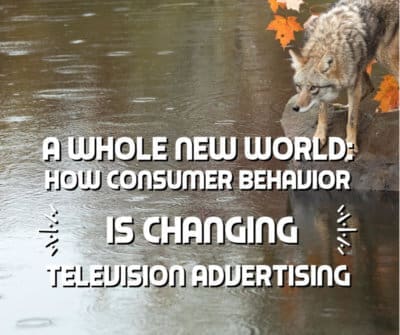 Top Streaming Services of 2021 (according to US News, June 17, 2021)
Netflix
Amazon Prime Video
Disney+
Funimation
Hulu
HBO Max
Peacock
Crunchyroll
Paramount+
Apple TV+
What does this mean for advertising?
Rather than describing the new reality for television advertising as better or worse, it's more accurate to say that it has changed.
On the one hand, there are fewer opportunities to place ads on local television networks and capture significant views.  Consider when you or your friends watch local television stations–it's most likely during the morning hours or news hours.  For local businesses, placing commercials during these time slots continues to generate success.  This is an economical solution for local companies seeking to increase their market penetration, particularly for promoting services.
Alternatively, placing ads with streaming services (called OTT or "over-the-top" advertising) allows you to be much more targeted with your advertising dollars.  Many streaming services provide a discounted or free subscription for customers willing to watch advertisements, and many customers select this option to save money.  As a result, advertisements are shown to viewers who meet defined demographic characteristics and exhibit relevant interests.  Remember, streaming services can tell a lot about a viewer by analyzing the shows they watch.
Additionally, viewers are more likely to watch the advertisements on streaming channels because there are fewer advertisements.  Rather than having a five-minute-plus break to get up and grab a snack or flip to other media, advertising breaks on streaming channels are typically between 1 and 3 minutes.  Hulu does a countdown to show how little time is left for the break in the hopes of keeping viewers in front of the ads.
What does this mean for your business?
Consumer trends are constantly changing, and our job at Paradux Media Group is to stay ahead of them to provide our clients with informative guidance.  Depending on the type of business you operate, and your campaign goals, the right advertising for you might be traditional television, OTT streaming services, social media, radio, or other online venues.
If you haven't reviewed your advertising and marketing strategy recently, it may be time to look at it.  Our team can work with you to review your specific marketing needs, evaluate your target audience, discuss various options for advertising, and help you make the best decisions to get the most from every budgeted dollar.  Give us a call, and let's talk about how we can help you increase sales and bring more customers to your business.