"With its grace and carelessness it seemed to annihilate a whole culture, a whole system of thought, as though Big Brother and the Party and the Thought Police could all be swept into nothingness by a single splendid movement of the arm." 1984
As you surf the web today you will see a 'Blacklash' as January 18th 2012 is a day of internet protest.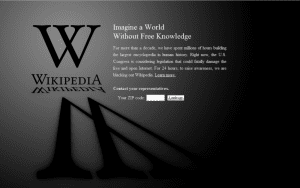 You'll notice the blackout of Google.  Go to Wikipedia  and you will see a black image with the simple message:  "Imagine a World Without Free Knowledge."
Our website at Paradux is blacked out with a stop censorship banner, as is Craigslist, and many others websites.  Everywhere you surf today you are bound to run into the 'Blacklash' and for most you, you have no idea why.  What has created all the commotion, protest and blackout?

It's all about SOPA & PIPA.  On January 24th, Congress may vote to pass internet censorship in the Senate, even though the vast majority of Americans are opposed to it. We need to kill the bill – PIPA in the Senate and SOPA in the House – to protect our rights to free speech, privacy, and prosperity.
It's another chance for social media and the internet to make a difference.  I would encourage anyone and everyone to tweet using the #SOPASTRIKE.  Turn Facebook black by changing your profile as well as posting, and be sure to let your Congressional Representative know what you think by adding your name to the protest list.
If you are looking for how to turn you website black or other ways to participate in the protest SOPASTRIKE is a good place to start.
Information is power.  Don't let congress strip us of the freedom on free information.  Take a stand.