Are you looking for ways to up your social media game in the coming year?  Social media is becoming one of the primary ways customers learn about products, services, and businesses and make buying decisions.  What makes social media different than other marketing channels is two-way communication and engagement.  Through social media, businesses can actively converse and answer questions from their audience, which in turn, creates a more personal relationship between the company and the customer.  New platforms are emerging regularly, and it can be confusing where you should spend your time and money, so here is our quick guide to social media options for 2023.
Top Social Media Platforms:
Facebook
Monthly Active Users:  2.9 billion
Most widely used social media platform for ages 35 to 44.
Facebook is the king of social media platforms, with the broadest demographic of users worldwide. It's estimated that nearly 36.9% of the world's population has a Facebook account.  The platform offers simple marketing tools for businesses, making it a popular choice for more than 200 million businesses and seven million advertisers.  The platform accepts text, images, video content, and feature "stories."
To be successful on Facebook, your business account must rank highly according to Facebook's proprietary algorithms.  While the algorithms change regularly, one overall theme is consistent.  Facebook is more likely to share your content with users if it is unique and engaging.  That means providing content that users want to share or respond to with a comment or question.  To be engaging, it's important for the company to respond promptly to comments.
Facebook Messenger
Monthly Active Users:  1.3 billion
Facebook Messenger may be tied to Facebook, but it operates very differently than other posts.  Marketers are able to send messages via the app to subscribed users.  The messages are distributed via "chatbots" that can communicate in seemingly human ways.  Chatbots use communication trees to alter the stream of messages based on user responses.  For example, a chatbot may present a promotion for an upcoming sale with the question, "Would you like to receive a coupon code for 20% off?" Users who select "yes" will get a code and additional information about the sale, while those that say "no" will get a completely different response.  Chatbot communication in Facebook Messenger can be quite complex, but once it's set up, can make marketing very effective and efficient.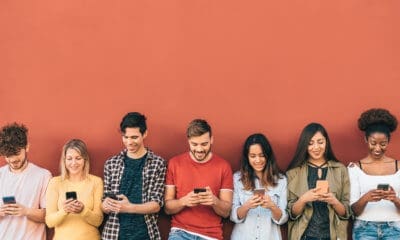 Instagram
Monthly Active Users:  2 billion
Instagram is owned by the same company as Facebook:  Meta.  As such, it shares many of the same qualities, and accounts between the two can be linked.  The difference is that Instagram focuses on showcasing photos and videos.  The demographic of Instagram is a bit younger, with about 62% of its users under the age of 34.
Successful Instagram business accounts feature eye-catching photography and videography.  Captions tend to be more succinct or include a link to an off-site article.  As with Facebook, engaging with users by responding to comments is important for ranking.
The first Instagram post was in 2000 and featured Instagram's CEO Kevin Systrom's dog in Mexico near a taco stand sitting next to his girlfriend's foot.  It was posted with one of Instagram's popular filters, X-PRO2.  Watch an interesting video about this first post here.
TikTok
Monthly Active Users:  1 billion
How can it be that an app as new as TikTok already has half the monthly active users as Instagram?  TikTok is by far one of the fastest-growing social media platforms.   Between January 2018 and July 2020, its global user base grew by 1157%, and in the United States, TikTok's user base increased by 787%. That's insane!
The popularity of the app began with the youngest generations because of its easy video-creating software.  In 2021, users under the age of 20 were watching an average of an hour and a half of TikTok videos every day.  Since then, more adults have jumped on the bandwagon because who doesn't enjoy watching short, entertaining videos?  People share TikTok videos they love.  For example, you're probably familiar with the TikTok emu sensation, Emmanuel Todd Lopez.  If you want to be successful on TikTok, you'll need a unique and fun idea and creative videography.
Pinterest
Monthly Active Users:  444 million
Pinterest is a unique social media platform that works well for some retailers and service providers.  Users save links to websites, blogs, product pages, or videos as "pins" on electronic bulletin boards that may be shared with friends and family.  Pinterest users are often creating boards for hobby or educational purposes–for saving their favorite online recipes or websites with interesting health information.  The most popular themes on Pinterest are fashion, beauty, home, garden, and DIY.   Just as other platforms do, Pinterest has opportunities for businesses to advertise using the pinned post methodology.
Twitter
Monthly Active Users:  368 million
Unlike other social media platforms, the number of users on Twitter is expected to decline rather than increase.  Once a very popular communication channel, Twitter's future is uncertain at this point.  It will be interesting to see what happens as a result of the recent purchase by Elon Musk.
Paradux Media will help you select the best social media options for 2023 strategies.
At Paradux Media Group, we help organizations make the best use of their marketing budgets–from developing effective marketing campaigns to implementing advertising campaigns on social media.  We help companies make smart decisions to get the results they want.  Contact us today and learn more about the benefits of joining our flock!