There's more to the Brand Book Tutorial Series, but this week, a diversion…
We belong to a CSA (Community Supported Agriculture), which delivers us a box of fruits and vegetables every week. We've been quite busy the last few weeks and haven't done as good a job as we should have keeping up with it. Consequently, I've spent a good portion of the day today canning and freezing the "bounty of the season" to use through the fall and winter. While this strategy works for things like garlic, plums, tomatoes, leeks, squash peppers, and onions, it doesn't work as well for heads of lettuce, cantaloupe, and eggplant. The best two strategies I had for that, was to share it with our neighbors and eat a lot of salads this week.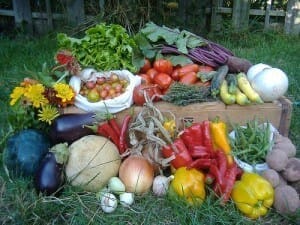 The goodwill (reputation credits/charity work/good deeds) your company earns operates in a similar fashion. Some of it you can put aside for use at a later date. Some of if it you use yourself right now to return additional business to your door, and some of it is best shared with your neighbors, and other companies you have an affiliation with. The trick with goodwill is to determine which parts of it have the shortest shelf life and which are most preservable. You then have to take steps to actively preserve it. Just as letting all the fresh fruits and vegetables sit in my refrigerator will result in moldy produce I'll have to throw out in a few weeks. Failing to proactively choose to preserve the goodwill your company garners will only result in moldy goodwill.
To preserve your company's goodwill, be sure to note it (humbly) in your company's internal and external newsletter, media, website, and Facebook page. Make a file of all the good works that your company has participated in so that you can provide a year-end report to your employees, stockholders, and stakeholders. Tell people about it! Good deeds left untold and unremarked don't improve your company's goodwill in the long or shortrun, just like plums left in the fridge for 4 weeks aren't edible. But just a little work now to note and promote will leave you with delightful plum jam to use throughout the lean months.
When you've got more goodwill than your company can actively use – share it. Find another business you like or admire – or that's just in close proximity and give some of the positive attention you're experiencing right now to them. If you're doing a lot of work with a local cause, why not extend a low/no cost opportunity for them to participate? If you've got an extra seat at an auction table, invite them. Why not? Your company can't use everything you've purchased or earned any more than we can eat 4 heads of lettuce and 2 bags of salad mix this week. Sharing is the right option. What's interesting here is that while you're "giving away" your goodwill, you're also simultaneously growing and preserving it.
As this harvest season is coming to a close, remember to treat your company's goodwill with as much care as your produce — and you'll be well fed, and well thought of throughout the lean months.
If you have ideas that have worked well for you in the past, either with produce or goodwill — please share them below in the comments section.